Published in The Revolutionary Times News on (7-15-2022)
INTERNATIONAL, NATIONAL, & LOCAL PUBLIC NOTICE
Representatives for Bankers Bank, Fannie Mae, the Federal Deposit Insurance Corporation, hereinafter "FDIC", the key leaders of Minnesota's Democratic and Republican Party corporations, and Bar members of the Minnesota State Bar Insurance have been formally charged with war crimes including, but not limited to, Communism, Persecution, Enslavement, Theft of Property, and Fraud/Check Kiting for denying National currency for payment of private land property, hereinafter "Home", and accelerating foreclosure on said property while turning over ownership of said property to multiple banking institutions.
Bradley D. Simington, Teresa J. Simington, Lawrence A. Wilford, James A. Geske, Eric D. Cook, Jennifer A. Thompson, Donald H. Wachal, Catherine A. Hohenstein, Scott McClure, James Eigenberg, Phil Nasby, Bradlee F. Stamper, Martin J. Gruenberg, David C. Benson, David Hann, Ken Martin, Shawn R. Haken and family have been charged for collectively associating to commit Fraud in the form of Check Kiting to keep ownership of land property with the private commercial banking institutions operating within the foreign political subdivisions, the paper States of the United States Federal corporation, hereinafter "USF", among other charges.
Charging Instrument provided here: LINK
A loan, hereinafter "Note", for the Home in rural Jackson County was approved for Brandon Alan Anderson, hereinafter "Claimant", to procure said Home by making payments to Farmers Savings Bank, hereinafter "Lender", located at (2121 Okoboji Ave. Milford, IA 51351) evidenced in the caption below, a branch of Farmers Savings Bank in Fostoria located at (10 Highway Avenue Northwest, Fostoria, IA 51340).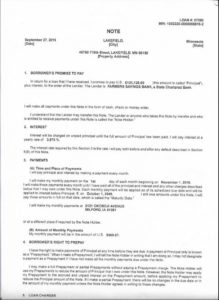 Yet, when National currency, legal tender for all debts both public and private, was offered for a monthly payment Claimant was advised to communicate with representatives for Bankers Bank, formerly known as Bankers Bancoporation, Inc. and said payment was denied on behalf of the arbitrary owner of the Note, Federal National Mortgage Association, hereinafter "Fannie Mae", instead of Lender. As evidenced, the Note switched in ownership from Lender to Fannie Mae. The denial of payment by Bankers Bank on behalf of Fannie Mae can be viewed in the caption below.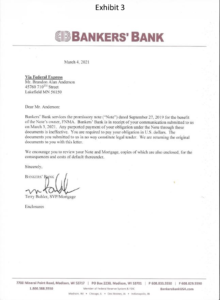 The conclusion, the Lender issued the Note to be paid in United States Dollars, hereinafter "Fiat currency", a form of Debt Slavery, by the Claimant without the funds to cover the Note with Fannie Mae providing Lender with Fiat currency for the Note, taking over ownership of the Note utilizing Bankers Bank as a representative for Fannie Mae. This is Check Kiting and is considered illegal in the USF in accordance with 18 U.S. Code § 1344 with penalties of up to $1,000,000 or imprisonment for not more than 30 years, or both LINK.
Now imagine how nefarious the digital banking will be with Check Kiting. Each individual digital coin will be traceable on ledger in the blockchain and will potentially be utilized for further Check Kiting, not just on the total amount of a loan, but each individual coin LINK. This has been practiced between bankers following the issuance of Fiat currency by the Federal Reserve for the USF whose Board of Governors and the Presidents of the 12 Federal Reserve Banks have been found guilty of war crimes and pending a Judgment and Order by the Judges for the War Crimes Tribunal for The United States of America LINK.
Check Kiting has been forbidden by the National assembly for the Government of The United States of America accepted and acknowledged on (March 6th, 2015) LINK followed by the Monetary Legal Impossibility Act of 2017 accepted and acknowledged by the National assembly for the Government of The United States of America on (September 8th, 2017) LINK.
This Notice may be utilized as evidence for the public hearings within the War Crimes Tribunal for The United States of America. Yahushua's house is now being put in order for his return. May the Respondents repent in accordance with the Gospel of Yahushua for a day that has been fixed in accordance with Acts 17:30-31 stated herein;
"30 The times of ignorance God overlooked, but now he commands all people everywhere to repent, 31 because he has fixed a day on which he will judge the world in righteousness by a man whom he has appointed; and of this he has given assurance to all by raising him from the dead."
Published by Trustee